Schools Sharing Good Practice
Sharing Good Practice - information provided by schools

Loudmouth - "My Mate Fancies You", Theatre in education programme on puberty and transitions
Loudmouth is an educational theatre company that specialises in RSE and safeguarding work. They are celebrating their 25th birthday this year and have been running programmes on puberty since their beginning, in 1994!
'My Mate Fancies You' teaches about the range of physical and emotional changes that take place in the adolescent body during puberty as well as looking at the transition between primary and secondary school.
The programme uses a fun and informative drama plus discussion workshop to help children and young people understand transitions and puberty (including the menstrual cycle), reassure them that it is normal and not something to worry about and advise them where to go for support.
Evaluation has shown that this programme has increased children and young people's knowledge of where to go for support and increased their awareness of, and ability to cope with, the changes that take place during puberty.
"Reaches the parts of pubescent experience that most personal and social education doesn't reach." Times Educational Supplement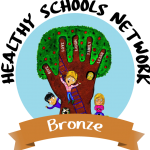 Schools Awarded the HSN Bronze Award 2018/19
Alderman Richard Hallam Primary
Beaumont Lodge Primary School
Braunstone Frith Primary School
Caldecote Community Primary School
Christ the King Catholic Voluntary Academy
Crown Hills Community College
Ellesmere College
Forest Lodge Academy
Heatherbrook Primary Academy
Inglehurst Junior School
King Richard III Infant and Nursery School
Mayflower Primary School
Mellor Community Primary School
Rowlatts Hill Primary Academy
Sparkenhoe Primary School
Spinney Hill Primary School
St Patrick's Primary School
St Thomas More Catholic Voluntary Academy
Willow Bank School
Wolsey House Primary School